We have receive lots of request on which aircon brand is good and which should we install. We mention earlier in an article, all aircon supplier have a certain level of standard in manufacturing their aircon equipment. But gone are the days that aircon can last you for 20 years, so what should we look out for when we choose to select an AC brand in the market? Before you continue to read article, these are solely based on our opinion and what we think about the brands in Singapore.
1. Daikin Air-Conditioning
One of the most popular brand in Singapore, the only Japanese firm that solely build their revenue based on Air-conditioning sales. But why is this important? This means the company solely dedicated their whole R&D just for air-conditioning, isn't that what we like about people? Focus and Dedicated.
Daikin Singapore was establish in 1968 and throughout the years they have grow their brand awareness in Singapore as a expensive but yet good quality air-conditioner. Those who look for quality and service would not hesitate twice to install a Daikin Air-conditioner system. They have recently concentrate their focus to the consumer market, you can see that they have more TV commercials targeting all home owners. They have a large service department, dedicated to serve the consumers in Singapore. Not only that, they have a spare part center for you to visit if you do repairs for your own air-conditioners. (Note: I have heard of salesman trying to tell consumer that Daikin has no spare part, very hard to get and is costly, THIS IS NOT TRUE btw)
So what are the popular models that Daikin Singapore Offers?
1.1 – iSmile Series (5 Ticks) come with built in wifi card
The all time standard Matt white outlook with built in wifi control, PM2.5 filter and weekly timer control function is definitely a standout features among the rest of the brands. Best of all, the newer model come with a easy dismantle of blower and drain pan for easy cleaning. It seems like Daikin has consolidate all the function the consumer wants and put it right into this model!
https://www.daikin.com.sg/product-series/ismile-series/
1.2 Super Mulit NX Series (3 Ticks / 4 Ticks) – Economical Model
The old school Daikin air-conditioner that has been around since 10 years ago, it has a slight milky white panel and the best feature would be the mold proof function where it run the fan mode for 30 minutes before automatically switching it off. This help reduces mold forming in the AC unit and in returns require lesser maintenance.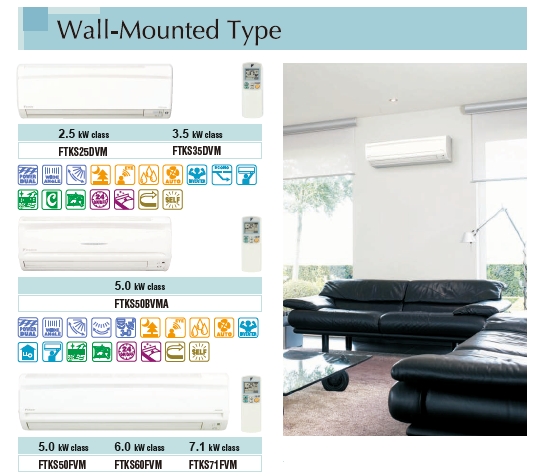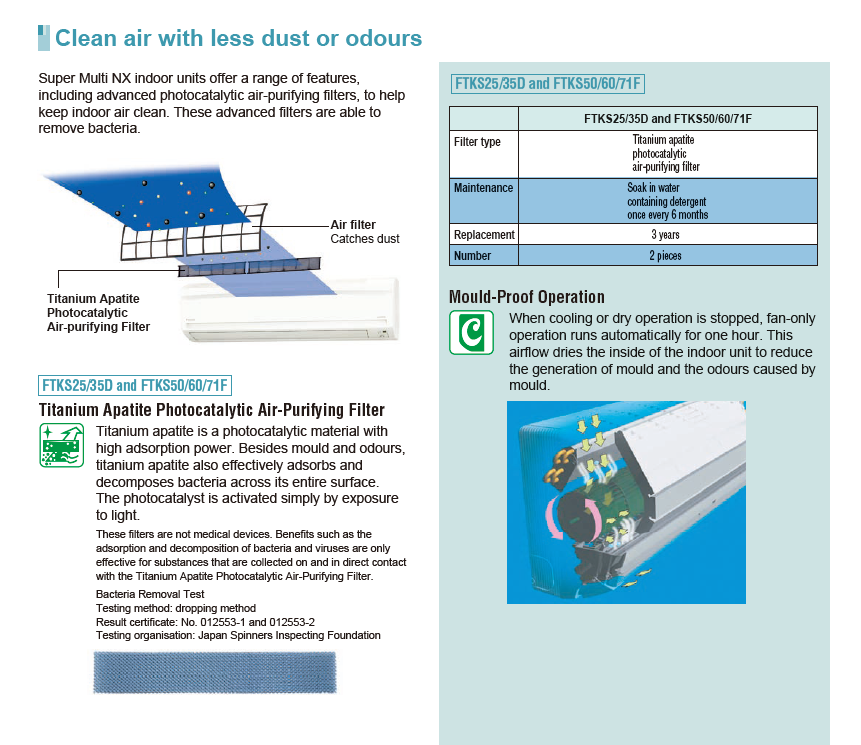 2. Mitsubishi Electric
The brand that got to fame in 2000s with Jack Neo as the spokesperson cleaning the air conditioning effortlessly. It's tagline "easy to clean" has been spread to all household that the air-conditioning brand is the easiest to clean and maintain.
Mitsubishi Electric Asia was establish in Singapore in 1977, they were establish later than Daikin Singapore but they catch up quickly and lasted till date to be one of the most popular brand in Singapore. They have strong houshold brand name due to their catchy commercial and aircon contractors sold to consumer easily without explaining much on the air-conditioning system. They have a strong service support and spare part to support the Singapore market. Even if you do not go directly to them for service repair, most aircon contractors would know how to diagnose and repair Mitsubishi Electric AC.
Let's take a look the function Mitsubishi Electric got to offer.
2.1 Starmex Series (5 Ticks)
The outlook of their model hasn't change much since 10 years ago, they still offer a glossy milky white panel but packed with more function. The never forgotten Easy to Clean tagline, a PM2.5 filter for cleaner air and a dual barrier coating that prevent dust and greasy dirt sticking to the blower itself. That means lesser cleaning and servicing is required! (Note: The coating might reduce its efficiency after chemical overhual is done, dont expect it not to be damage after chemical is done) For those who are looking for weekly timer function or out of home control, sadly they do not offer this as a standard package solution.
https://www.mitsubishielectric.com.sg/products/air-conditioning/residential/multi-split-inverter-r410a/starmex-msxy-fn-series-wall-mounted-type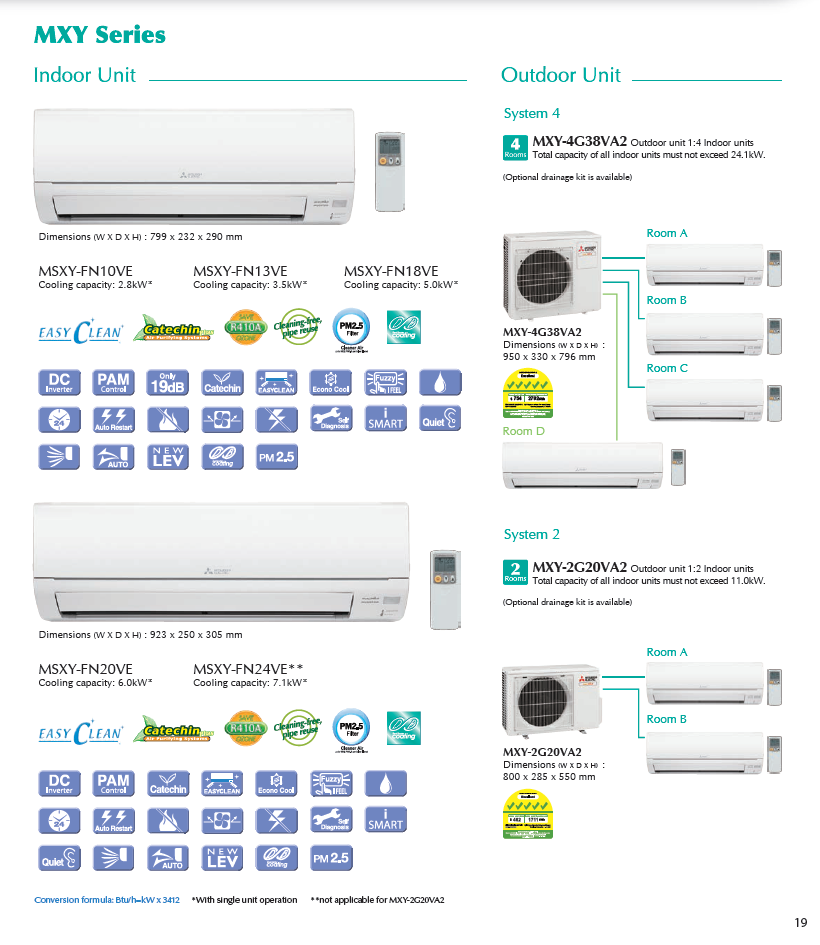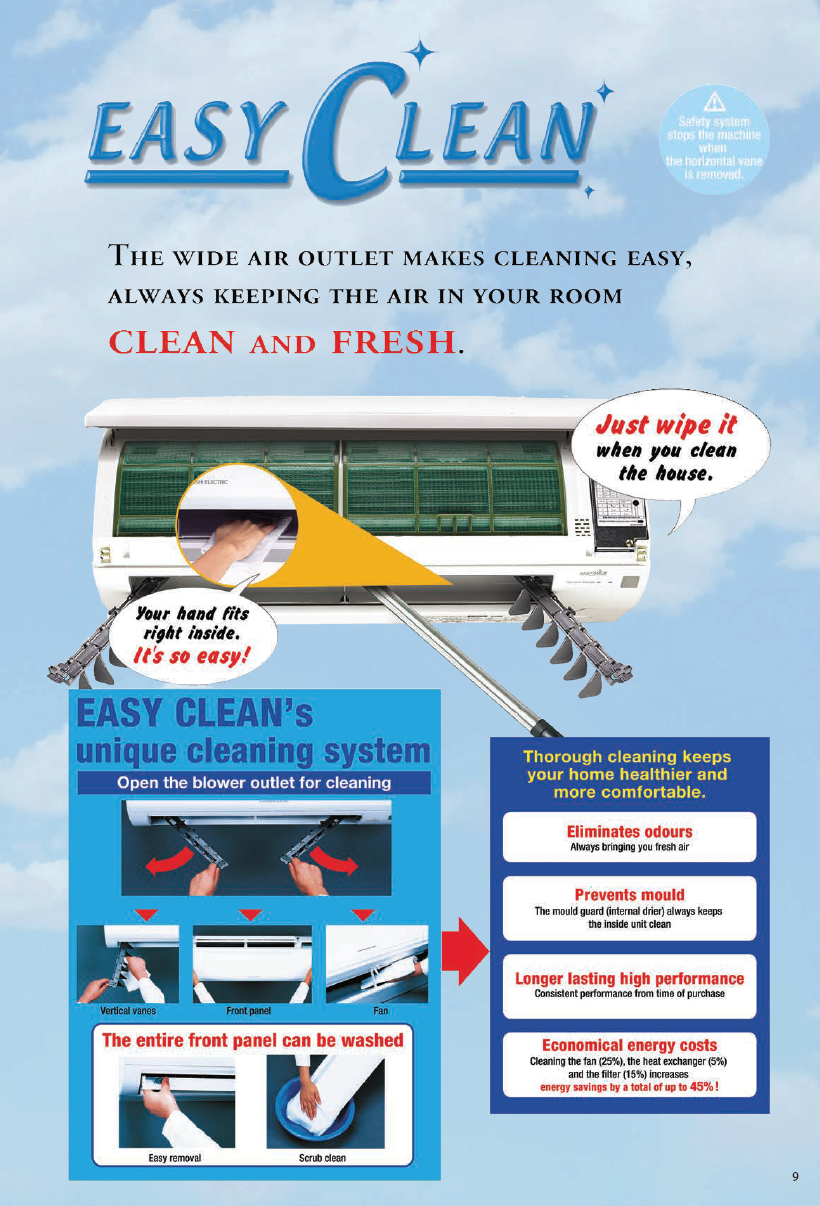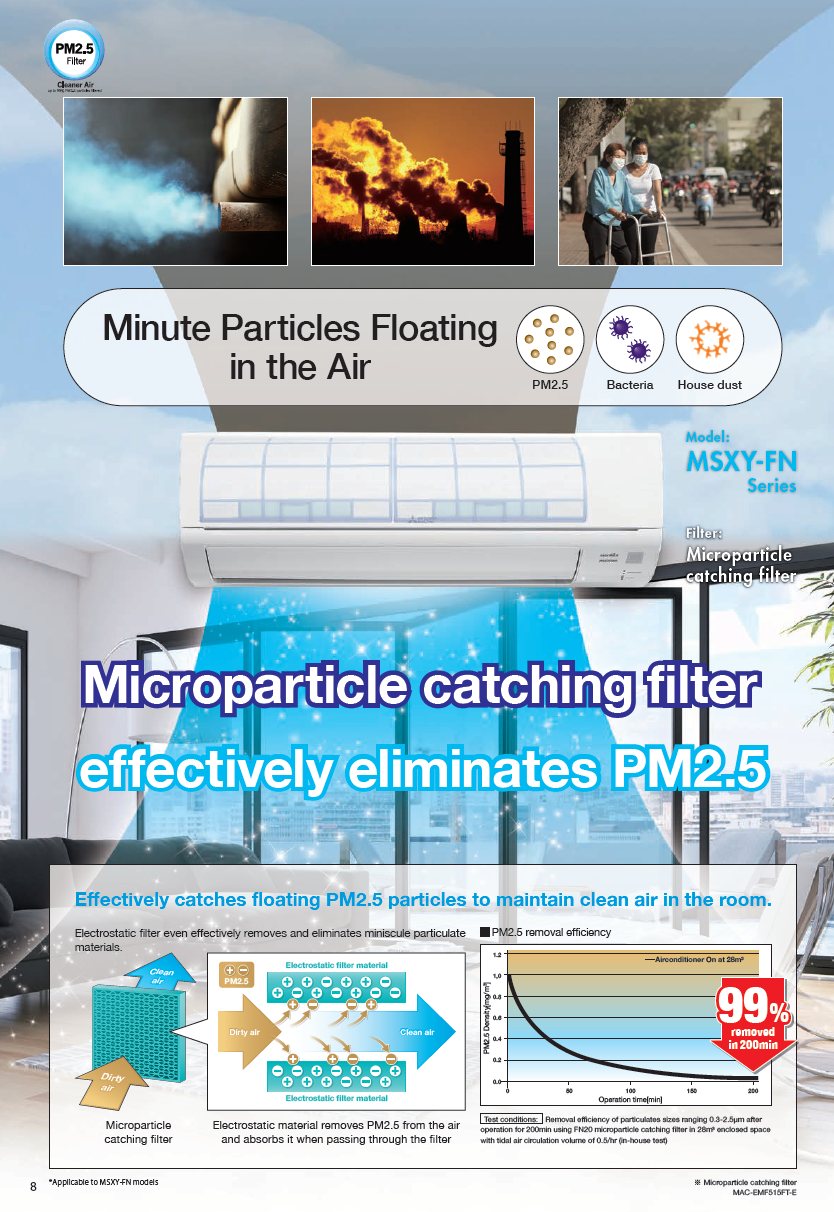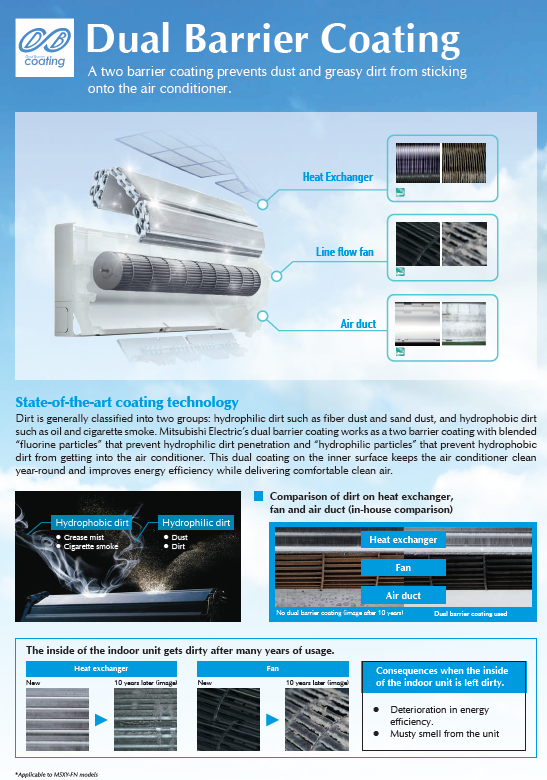 2.1 Starmex Series (2-4 Ticks)
They no longer offer the lower ticks multi split models and currently only offer the 5 Ticks Series. This would make sense as a supplier as they will not have high inventory to keep track and only offer the most popular function. I would say they apply the 80-20 rule for stock when it comes to Singapore market. For the old models, they just sell based on the key feature of easy to clean which has brought them to popularity as one of the easiest AC to clean and maintain. The reliability performance also proven to be one of the best buy for consumers.
3. Panasonic Air-Conditioning
Another very popular Japanese brand aircon over the last 2 decade, for those who have use them will continue to use them as they are reliable. However, Mitsubishi and Daikin have been working very hard on their sales and marketing to see who eventually becomes number 1 in the market. Panasonic has always been the 2nd choice or 3rd choice when it comes to selecting air-conditioning in the market. They do not spent much on marketing thus the name doesn't pop up to mind unless their parents tell them so. Their older model offer a silver tone outlook which was not exactly aesthetically pleasing but the price was competitive. They have since revamp the whole new outlook and offer a function pack features in their aircond.
3.1 Panasonic – Premium Inverter Multi Split (5 Ticks)
They don't have a series name for their air-conditioning system like how Daikin name their models. So if you are looking for the 5 Ticks Panasonic model, remember to ask for the Premium Inverter Series. When they manufacture their AC system, they focus the key concern of indoor air quality for consumers. For the premium model, the main function they offer is the NANOE-G technology for air purification that comes complete with a PM 2.5 filter. It also offers a Aerowings that helps to concentrate the airlfow to deliver faster and further across the whole room. Another innovative function that come as an optional to purchase is the Panasonic Comfort Cloud Applications. Other than the basic function of monitoring and control, they also include energy consumption usage pattern and troubleshooting analysis! This is really a great function for home owners who are mindful on how much they spend on their air-conditioner system and it allows you to troubleshoot your on AC if there are any fault. This way you will not be con by the contractors on the issues of the AC you might have. It would be the best AC to have it if is built into the AC system instead of offering as a option.
https://www.panasonic.com/sg/consumer/air-conditioners/residential-use/multi-split/cu-4xs34ubz.html
3.1 Panasonic – Deluxe/Standard Inverter Multi Split (2 Ticks)
They offer 2 lower range model with an efficiency of 2 Ticks. If you are not a heavy AC user, you might consider going for this option. However the Standard model would not offer the nanoe-G function, this reduces the cost and would make economical sense for consumer who are looking to install a reliable AC but yet not paying a premium price. Most suitable for consumer who are looking to install in their rental units or office.
4. Mitsubishi Heavy Industries
Do not be confuse with Mitsubishi Heavy Industries (MHI) and Mitsubishi Electric even though they have similar name. Yes, they are all under Mitsubishi Group of Companies but the operations are different. MHI in Singapore are operate under KM group and not Mitsubishi Electric Asia. So please do not be confuse by the salesman that says both brand are the same. From the name itself, we know they deal with industrial standard of equipment, the recent satellite based ERP system was awarded to them and they built one of the best central chillers in the world with super energy efficiency. We got to credit the technology advancement they offer but lets see what they offer in the home residential aircon units.
4.1 Diamond Series (5 Ticks)
The Diamond Series of Mitsubishi Heavy Industries offer a glossy white finishing outlook. It looks quite sleek actually comparing to the Japanese brand. In terms of technology, they do have an interesting way of aerodynamics in taking in the air and cooling down the room. Their front panel opens up like a "Iron Man" and take in the air to deliver the cool air with a huge flap. What makes it better is that the individual swing motor allows you to cool the room in 8 different horizontal direction. So instead of quarrelling with your wife to have the AC flap facing you in one direction, it can now do both!
One more factor that you can consider is that they have an anti microbial fan blower, but I would believe you need to take proper care by only using water to wash this surfaces as any chemical (acid/alkaline) will definitely deteriorate the coating on the fan blower. Finally, the self clean operation is an auto function to allow your AC to be in fan mode after the night runs. This will keep your coil and blower cleaner than the usual. We see this as a definite buy if the price is right!
https://www.mhiaircon.com.sg/residential-system-rac-multi-system
5. Toshiba Carrier Corporation
Like any big corporation, merger and acquisition is the key to scale and growth. Carrier, the US brand that specialize in central cooling system and Toshiba, the Japanese brand that specialize in home residential and small commercial office space merge during 1999. The M&A allows them to offer a better service and product range in business sense. Like a mixed development, there would always have a combination of both. Toshiba has always been a strong and reliable brand in the market. They have a wide project reference in the government sector as their price are super competitive comparing to Daikin and Mitsubishi. So the brand wise is reputable and definitely a consideration when you choose to buy an AC unit in Singapore. Let's take a look at their latest Aircon model that is introduce in Singapore.
5.1 YouMe Series(5 Ticks)
Like a typical Japanese brand, the YouMe series name came from the Japanese word Yume. It mean Dreams, ideals on the future. Toshiba is committed to provide a sustainable technology that reduces impact on global warming and delivers cooling comfort to you in the most energy efficiency way. It is the first 5 Ticks R32 gas Multi Split unit in Singapore! They got the word "FIRST" and it was a surprise move as all competitor till date are still not offering the environment friendly R32 gas for their 5 ticks version. *Claps*
The outlook of the YouMe is stylish and curvy, the curve are just so seamless! The redesign of the aircon indoor unit has make signification improvement for a easier servicing and maintenance by your trusted professional serviceman. The self clean function again is a must have to keep your aircon blower and coil cleaner for a long time. The magic clean like what Mitsubishi Electric offer, has a hydroponic surface coating that drains off water/dirt/oil when the water drips through. Using water as the maintenance is the best recommendation as chemical (acid/alkaline) will just damage the coating. Toshiba Carrier truly has design an aircon with environment in mind and with consumer at heart. It will definitely be one of my choices if price and capacity are right.
https://www.toshiba-aircon.com.sg/you_me.aspx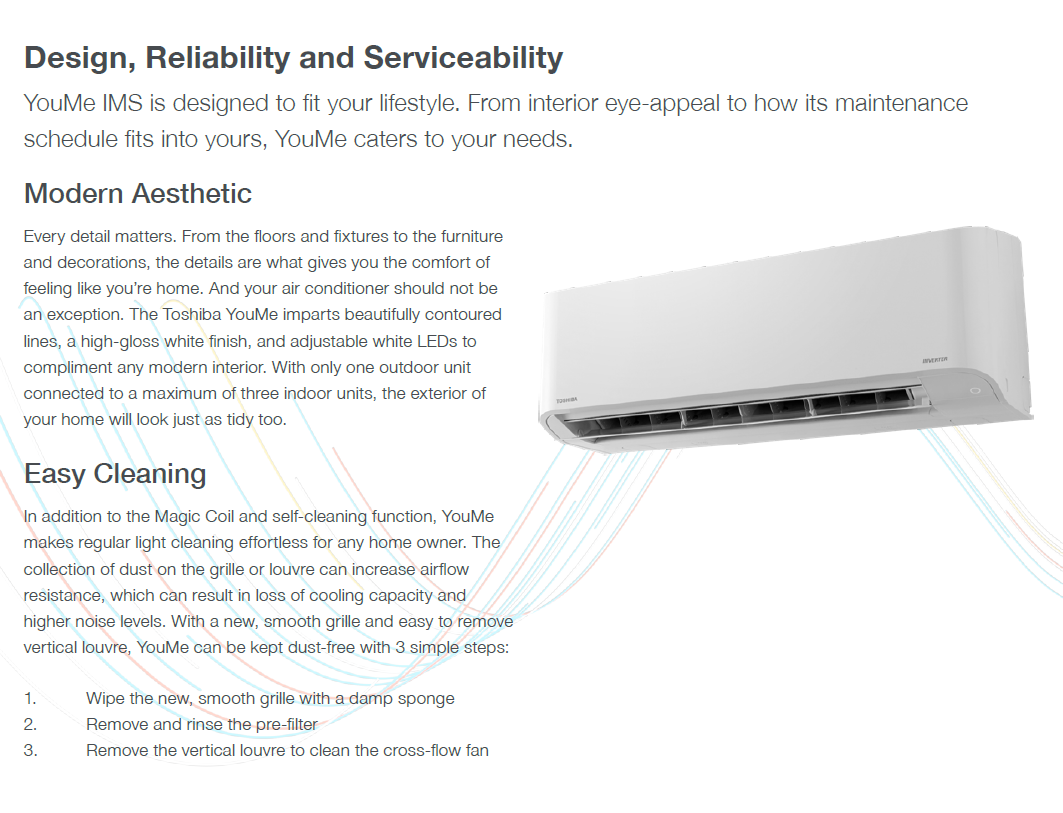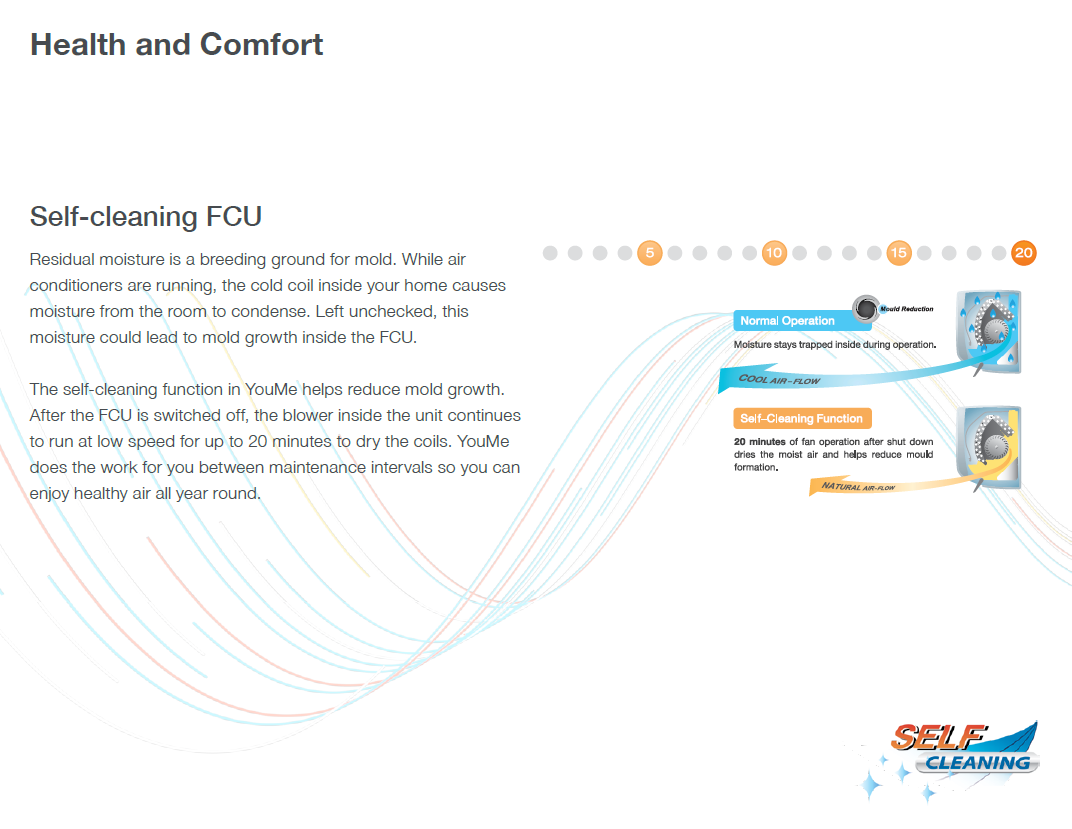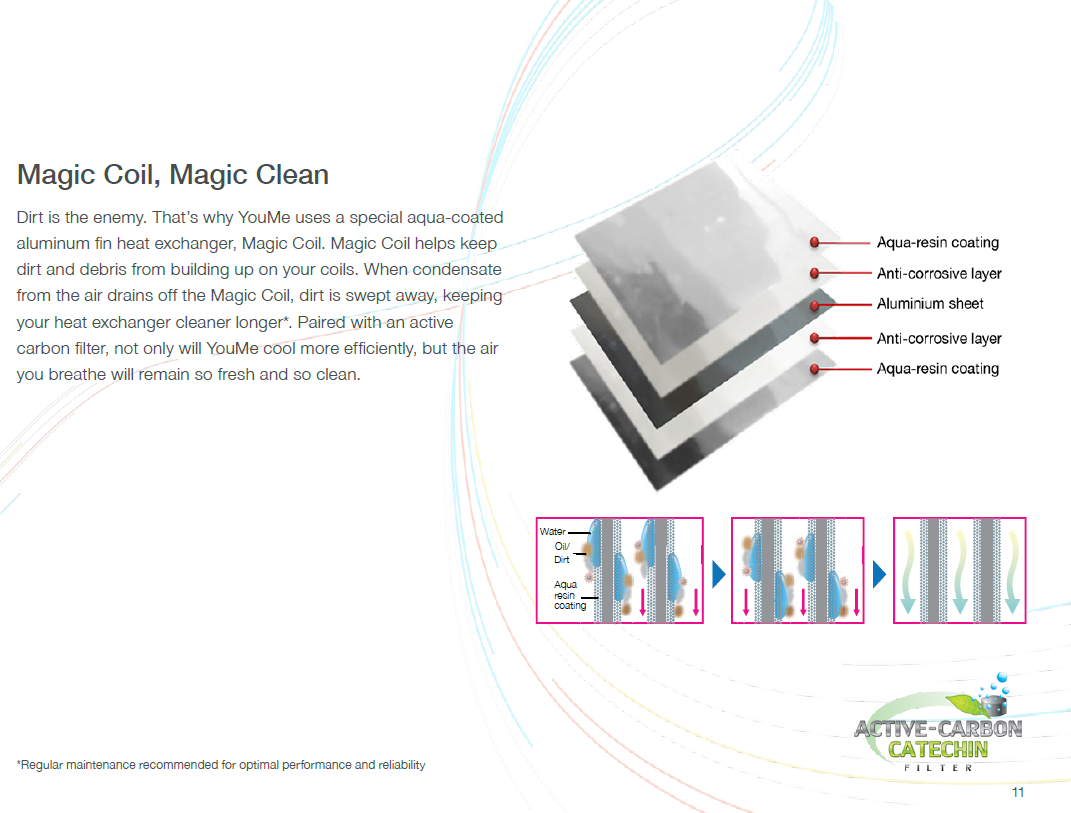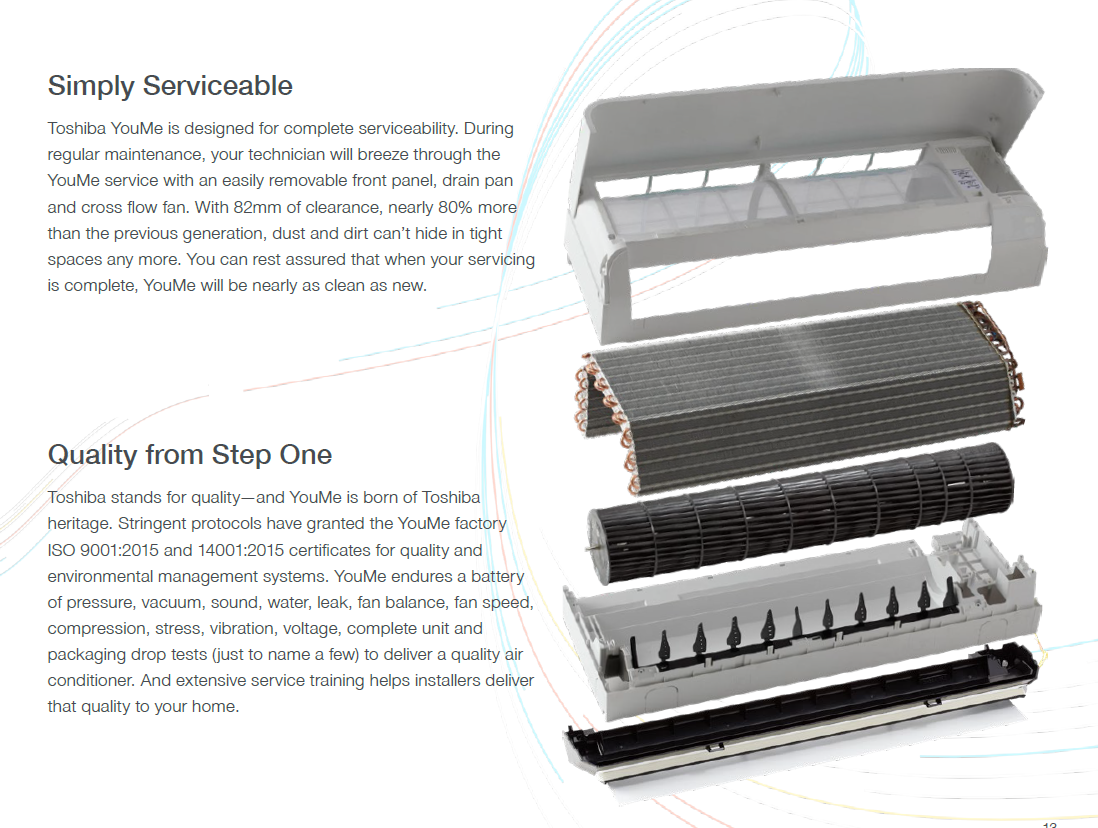 6. Johnson Control – Hitachi Air-Conditioning
Similar to Toshiba Carrier Corporation, Johnson Control who is a popular US brand joint venture with Japanese Hitachi Air-Conditioning to get their market share. Though Hitachi Aircon are not popular in Singapore, they are actually very popular in other countries. Both brands have their own equipment in central cooling system and residential system but Hitachi has better capability in their Multi Split and VRF system that would help Johnson Control in providing a 1-stop solution to their projects. Lets see what Hitachi got to offer in their residential unit system in Singapore.
6.1 Hitachi Multi Split System (4 Ticks)
There isn't a series name for their 4 Ticks system but their outlook looks typical to the Mitsubishi Electric unit. Interestingly, they offer a Triple Air Purification System. We know that air intake into the air-conditioning system is the most important factor and they have consider this during their design of their AC system. It comes with a stainless air filter that does not get stain, so this mean you can get it clean without using water and only clean it just by wiping the filter! It also offers a Wasabi Air Purifying Filter, first that I have heard of it, this helps to remove odors and allergen and lastly a UV Fresh system that emits UV light into the filters that will neturalise 99% of the bacteria. Talk about clean air that is coming out of your aircon and I am sure this features will convince a few home owner to purchase it. They have also committed to a same day premium after-sales care if you have any issues with your AC unit.
https://www.hitachiaircon.sg/ranges/wall-mounted-multi-split-inverter/inverter-multisplit-system
7. Fujitsu Air-Conditioning by Winfinity
Winfinity Singapore was incorporated in 2002 and they have been the sole agent appointment by Fujitsu General Asia to handle all sales aspect of Fujitsu air-conditioner and spare parts in Singapore. The only company that hasn't setup a base themselves in Singapore and that means Winfinity has been doing a great job in handling the sales and service in Singapore. This brand is not so popular in Singapore but we heard it is number 1 in Australia and I believe all regions has their stronghold aircon brand and in Singapore it would be Daikin and Mitsubishi Electric. Lets see what Winfinity got to offer in the Singapore market.
6.1 The Pearl Series (5 Ticks)
They are offering their 5 Ticks series with a a Fujitsu Cares Programme which includes a 5 years Full warranty that Covers Parts, Labour & Transport. OMG! Where could you get that kind of guarantee on product these days! It's has been ongoing for quite some time and they didn't put a end date to this. A definite steal if you want to have a peace of mind for at least the next 5 years. The aircon outlook offers a slim and stylish square design with a new improved structure that allows the removal of the PCB and water tray in 3 simple steps. I did Fujitsu maintenance before and it was tedious, but looking at the improve design, it definitely means the trend of easy clean for air-conditioner is playing a big important role. Other than that if the price is right, it is confirm one of a consideration as well when choosing an AC.
I have come to the end of the article and hope you have enjoyed reading it! I hope you select the Air Conditioner that's suit to your needs and requirement. Remember, the pyramid importance of buying an AC system is selecting your AC installer. Hootech is here to offer you the best kind of service by paying the right price. If there are any question on any other brands, please feel free to contact us via WhatsApp. Just click on the icon that is hovering on the bottom right corner. We will be there to responds to your need.