NEA is calling a ban to Aircon suppliers in Singapore on Residential Aircon Unit using R410a gas. This is a move towards reducing greenhouse gas emissions and a World effort to reduce the global-warming potential.
All AC units will be using R32 gas moving forth.

What is R32 Gas?
It is lower in global warming potential thus more environment friendly
It is a better performance gas thus you can expect your air-con efficiency to be better.
It is very low flammability and is consider safe to use. It is also approved by the SCDF
It is introduced in Japan since 2012 and widely use all over the world except Singapore
Take note, do not listen to contractors that tell you that it will be dangerous, they can't install these units because you need to be trained to handle R32 equipment.
What does this mean to us?
Like how R22 phase out many years ago, manufacturer will soon stop have to selling R410a ac models. The new AC models will come in and flood the market. AC suppliers will continue to supply spare parts for an estimated 5-7 years before a complete halt on the older equipment. This means in time to come, if your ac breakdown you will have no spare part for replacement.
What should you do?
Future proof yourself by installing the latest AC equipment with R32 gas. Yes! There are currently 2 brands out of 7 in the market readily supplying R32 aircon units and they are Daikin and Toshiba. Daikin being the forefront aircon leader in the industry has introduce R32 aircon equipment 3 years ago in Singapore. They have wide range of AC from single split to multi split. However, they do not have the 5 ticks model for the multi split models. On the other hand, Toshiba is the first AC manufacturer to offer 5 ticks R32 multi split AC units into Singapore.
Let's take look at the comparison of the current available R32 AC units in Singapore.
The Daikin Smart Envi Series has the similar outlook as their current ismile series. It has a range of capacity from 2.5kW to 7.1kW (9k BTU to 24k BTU) but* only their 2.5kW model is awarded the 5 ticks energy labelling. This is a plus point for switching to the R32 model. In addition, it features a removable drain pan that can be remove right after removing the front panel and 5 screws. (Applicable for up to 5kW model). This is great for people who love to do their own maintenance! With easy access to cleaning, you can be guarantee a lower maintenance and a cleaner Aircon system.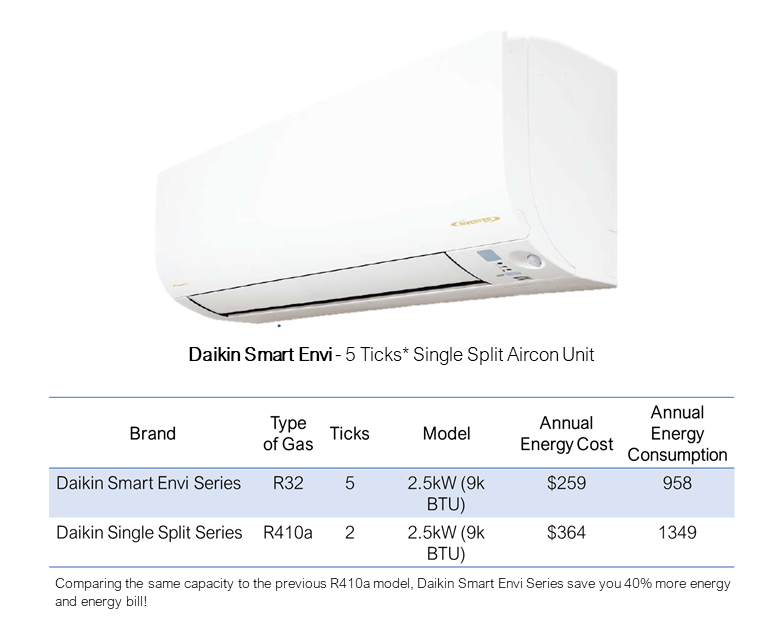 Pros: Super Energy Efficient, Easy maintenance, Wide range of capacity

Cons:  None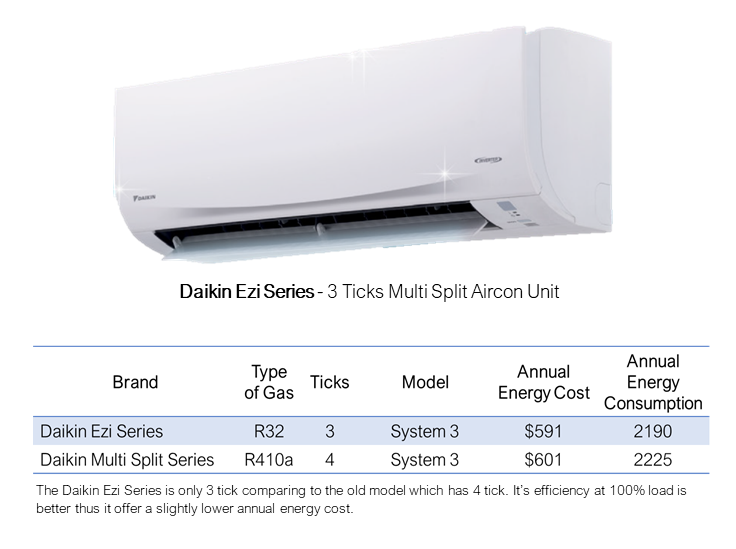 The Daikin Ezi Series was the first R32 multi split to be launch in Singapore. It has only a capacity range of 2.5kw and 3.5kW and is maximum connectable up to a system 3. It features a glossy finishing design which is one of its kind as the rest of Daikin's model has a matt finishing. It has no key feature and this model would be classified as the cost-efficient range model among all Daikin product range.
Pros: Value for money

Cons: No features, Unable to connect for 4 room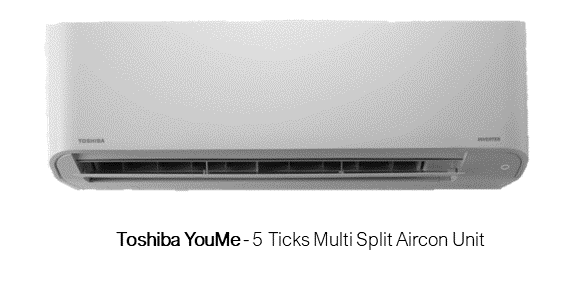 Singapore first 5 Ticks Multi Split Aircon Unit would be from Toshiba latest Series, "YouMe". It has a capacity range of 2.5kW, 3.5kW and 5.0kW model and is connectable up to 3 indoor unit with maximum capacity of 7.5kW (25k BTU) with has a stylish high-gloss white finish. It features a "magic coil" with anti-corrosive layer and an aqua-resin coating which prevent dirt and debris from building up on the coil. But they do recommend regular maintenance for optimal performance and reliability. The design concept in mind was to allow easy dismantling of the blower and drain pan by the technicians.
Pros: Energy Efficient, easy maintenance, stylish looking

Cons: Unable to connect for 4 room, cooling capacity not enough for large living rooms